Below is a list of our extensive heating and plumbing services. We cater for both residential and commercial needs.
Our highly skilled and trained plumbers are registered with SEAI, RGII and OFTEC. All work includes a full warrantee and is fully insured.
In addition to our services, we hold a stock of heating and plumbing supplies available to traders. Please contact us if you wish to make a purchase.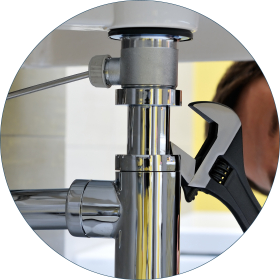 Servicing
Prolong the life of your boiler.
To prolong the life of both gas and oil boilers, we recommend getting them serviced once a year. Annual oil boiler servicing will give you the peace of mind that your boiler is running safely. If boilers are left un-serviced for too long, those small and easily fixable problems can escalate to become more costly and problematic.
Larger issues that can result in necessary boiler replacement could be avoided by carrying out annual services.
All boiler services that we carry out come with a service certificate, which most home insurers and leasing companies will request.
Power-flushing
Maximise the efficiency of your heating system.
A power-flush will help to eradicate cold spots in your system to make sure that your radiators are heating to their full temperature. The power-flush removes the sludge and dirty water that gets caught up in the heating system over time.
Once your system has been power-flushed, you will notice that there will be even heat distribution in all radiators, meaning more heat efficiency.
After flushing, we treat the system with an inhibitor to make sure that the system will remain protected and clean. In addition, we can install a permanent magnet to further protect the system from a build-up of sludge. We can clean this magnet annually to maintain its protection of your heating system.
Boiler Upgrades
Upgrade to a new, efficient boiler.
Upgrading your boiler can save you an average of 30% on your fuel bill. Most oil boilers begin to allow heat to escape via the flue, but a new condensing boiler reuses the lost heat to preheat returning water, which could mean having a boiler that is up to 99% efficient.
Heating Control Upgrade
Comfort at your fingertips.
Upgrading your heating controls can reduce the cost of your energy bills. Just by installing thermostats on the radiator valves you can make a saving, as each radiator will react to the temperature in individual rooms.
An SEAI grant of €400 is awarded for upgrading your heating controls. At Ward's Heating and Plumbing, we will ensure that your heating and hot water can be controlled separately. All radiators will be controlled by a thermostat, so every room in your home will be the perfect temperature for you and your family, without the hassle of turning radiators on and off to suit the weather!
We are Climote installers, and we will install this state-of-the-art product for a highly competitive price. Climote allows you to control your heating from anywhere in the world. You can turn your heating on and off with the mobile app or by text message. It's a truly innovative invention that will change the way you heat your home and it could save you money on energy bills.
Stoves
Stylish and efficient heating solutions.
Whether your stove will be used to heat a single room or whether it is installed in a combined gas or oil system, we can install it for you. Please contact us for more information.
Supply
If you need it, we have it.
We have access to a well-stocked store, which enables us to offer you heating and plumbing equipment at great prices. Ward's Plumbing and Heating work closely with manufacturers to ensure that all of the parts that we install are of the highest quality. Whether you need a plug for your kitchen sink or a boiler to heat a school, talk to our professional plumbing and heating engineers. We're here to help!